---
Are you interested in starting your own side business with online courses? Learn how you can earn passive income and what you need to consider before you get started.
---
We do not guarantee that you will earn any money. The information in this article is for educational and informational purposes only.
Some of the links in this article may be affiliate links, which can provide compensation to us at no cost to you.
---
How to Start a Side Business with Online Courses?
Online Course Business in a Nutshell
An online course is a digital product that needs to be made only once, after which it can earn you passive income, in the best case even for decades.
In this article, I go through the ingredients of a successful online course business. The main stages of this kind of business are as follows:
create your first online course
gain followers by giving away free content
publish new courses from time to time
increase the quality of your content and invest in your brand
improve your site's SEO ranking in search engines
You don't need education, large capital, or exceptional technical skills to start an online course business. Begin by creating your first course, so read our article on: how to make your own online course.
The most essential part of an online course business is the course platform you will sell your courses on. If you are not sure which platform to choose, I highly recommend LearnWorlds.

The best course platform for selling courses
Gathering Followers
Once your first course is ready, it's time to start promoting it and gathering followers. This is done by creating a social media channel which you will produce free content for.
You may want to make your first course before you start producing free content. This way, you have a paid product that you can advertise and potentially earn money from the get-go.
At first, it's best to focus on just one social media channel. I myself have been making YouTube videos for a few years to promote my online courses and it has proven to work, so I am using it as an example in this article.
I recommend that you create a YouTube channel and start posting 5-15 minute videos at least once a week. You can also make short clips from your videos and publish them as Shorts.
You may want to make your videos about one subject area only. If you make content about writing books, for example, you should stay within that topic. I myself make videos for three different channels on the topics of game development, programming and 3D graphics. If I made these videos for just one channel, many people might start to follow me because of some programming video and would complain if I suddenly published a video where I talk about 3D graphics.

The difference between a free video and an online course
The purpose of a free video is to arouse interest in the topic, which is why it is worth going over the topic only superficially. The goal of an online course is to get to know the subject more deeply, down to smallest but useful details.
When you create a social media channel, you must come up with a name for your brand. If you are interested in videography, for example, and you are going to create your first course on shooting drone videos, you may not want to name your brand as "Dronemaster". You may later want to make a course on, for example, video editing, in which case your brand name is not the most suitable. Come up with a random name for your brand or use your personal name. The name of my brand is "Holotna", which is in no way related to the content I make, but at least it has been remembered by my followers. Don't think too much about your brand, though, because your priority at this point should be producing content.
---
Start Mass Producing Content
Creating a Routine
Once you have got your online course business up and running, so that you have one paid course and a few YouTube videos, it's time to start mass producing content.
Imagine you have an assembly line where you mass produce content at a steady pace. The line consists of stages such as planning, script writing, video shooting, video editing and publishing. To produce content as efficiently as possible, learn each step well and build a routine. If you want to learn how to create routines, read our article on: how to create good habits and routines.

Focus on results, not perfection
When you start making free content, you should focus more on quantity than quality to make things move faster.
Promoting Your Courses
You should promote a course you have made in each of your YouTube videos, because every once in a while one of your videos might get more views than usual. If your content is good, others may start sharing it, which will increase the number of views significantly. This has happened to me at least once. I saw in the statistics of one of my 3D modeling videos that it has received a lot of views from Facebook, probably from some group related to 3D graphics. After that, the ranking of the video increased greatly on YouTube.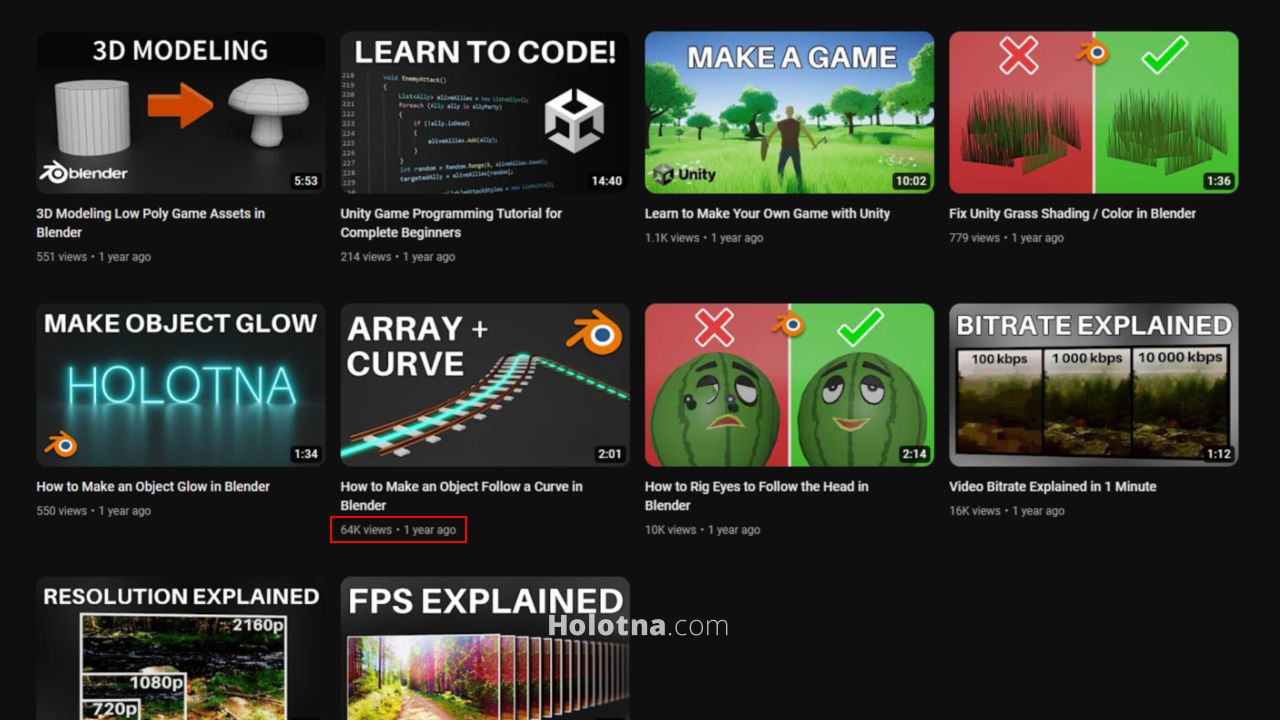 Long-Term Planning
For the future, list about 10 topics for YouTube videos and a couple of subjects that you will make a online course on. Work on no more than one course and one YouTube video at a time so you don't get overwhelmed by the workload. In the best case, you will mainly work on your course and occasionally take a little break to make a new YouTube video.
You can make a course that continues from your first course, so you can get your previous students to buy your follow-up course as well. Alternatively, you can create a new course on a different topic to see if it performs better than your first course.
When you start posting great YouTube videos regularly, you might notice your follower base grow faster than previously. The more followers you have, the more potential students you have. When you give away useful content for free, viewers will be grateful, and grateful viewers may turn into paying customers. You don't have to be the smartest content creator in your field, viewers may like your teaching style, for example, in which case they would rather watch your content than someone else's.
---
Expand Your Side Business
When your online course business is running well, like you have a couple of paid courses and about 25 videos on your YouTube channel, it's a good time for you to start expanding your business and focusing more on building your brand.
At this point, you can join other social media channels. Start by publishing your older content on these platforms so you will get them going quickly.
In addition to gathering social media followers, you can also start growing your email list. This can be done, for example, by adding a simple email form to your course website, which the visitor can fill in to join your mailing list.
If necessary, you can improve the store pages and introduction videos of your existing courses to make them as sellable as possible. Your store pages can be found on search engines such as Google, so it is a good idea to spend some time improving their SEO ranking. To do this, use popular terms related to your field that people might search for.
Make sure to keep the momentum going. Publish both new courses and social media content at a steady pace. Also try to improve the quality of your content, so invest in a better camera or microphone, for example.
When you have a good number of followers, you can start thinking about selling other products as well. If your expertise is fitness, for example, you can set up an online store where you sell physical products related to fitness.
Almost anything is possible, as long as you are ready to work regularly for a long time. Although a lot can happen in a short period of time, don't expect results right after the first month. The most important thing is that you start and focus only on creating courses and social media content. When it's time for you to choose which course platform you will use to sell your courses, I can warmly recommend using LearnWorlds.
---
Related Articles
---